Carolina Cottonseed Oil Meal Cake
Our Website is up to date as of 11-3-2023
Open for business every week for nearly 130 year's
Tri S Ranch
and Carolina Mealcake are a division of S.F. Sherard & Sons
Selling Our Cottonseed mealcake on the web going on over 40 Years..
Always closed on Saturday and Sundays and holidays.

For all you weekend campers staying at the Calhoun Falls State Park on Beautiful Lake Russell.
Our Carolina Mealcake (cottonseed mealcake) is sold and can be picked up locally at the
Corner Store @ Hwy. 81 & 72
(note this) Corner Store "DOES NOT SHIP" Mealcakes, they just sale what I stock in the store like a coke cola or something...
Orders can also be placed from this
web site
or you can purchase from
Amazon.com
or
Ebay
and other fine stores across America.
Shop with Confidence
As of 11/03/2023 1000's of cases of Carolina Mealcakes have been shipped out across America.
On time and delivered without a lost !!! none.
Don't trust the internet? no problem...
Check out the
FYI
page for answers to the most asked questions over the last 40 years.
We manufacture, sell and ship Our own cottonseed mealcakes using USPS to anywhere in the USA.
Made In The USA.
__________________________________________________________________________________________
click here on blue link or on picture for product page.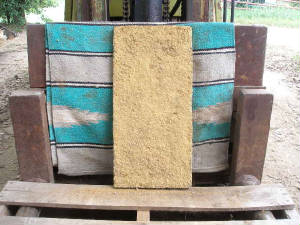 Carolina Cottonseed Oil Meal Cake
(South) Carolina CottonSeed MealCake Slabs are cut up, packaged & shipped to any USPS address in the U.S.A..
All of the real cottonseed oil in the cottonseeds is left in our Carolina cottonseed mealcakes.
This is the best designed and the longest lasting cottonseed meal cake on today's market..
Great for Drawing CAT Fish, Crappie, Bream, Bass (yes Bass), Bait Fish & Carp! You just have to figure which kind of fish you want..
Hang it out by your dock or throw it in your favorite Fishing hole.
"ROCK HARD Meal cake
" makes for S-L-O-W FOOD RELEASE
to draw and keep fish where you want them..
Fish can only nibble off of it. For trout lines? yes... You will need a saw and drill!
I am a third generation offspring of this business and the 9th generation to carry on in this area.
We evolved from cotton farming, cotton ginning, and raising crops and then ranching.
Carolina Meal cakes Slabs are mixed, loaded, and pressed with over 5 different added foods that all fish love.
Less weight now but, pound for pound has twice the drawing power as most other foods
This meal cake feeds the bottom, top and in the middle of the fish food chain.
EXTRA food is added just to attract minnows and bait fish.
Shipping
U.S.P.S. Flat Rate shipping prices
Flat Rate shipping charges are included in our prices that are listed. We do not add anything to USPS shipping.
Please clear your browser's cache if the Add To Cart button doesn't work for you.
You can also skip pay pal and use your own credit card there if you don't have a Pay Pal account.
_______________________________________________________________________________________
Order By Mail ?? Here's How..
If you want to order by mail, just send a check, or money order and a note with what you want off the web site, and a email address if you can.
Mealcake
P.O.Box 605
Calhoun Falls, S.C.
29628
This was the last bale of cotton I ginned in our family's cotton gin.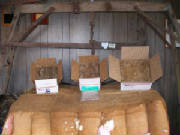 Carolina Cottonseed Mealcake food and fish attractant.
For fishing baskets or hanging out around docks or just throw it in and bait a hole.
No holding bag is needed ! Nothing to add, it's already in the mealcake!
Fish have to eat on it to make it go away..And it won't be falling apart or disappear when it touches water like some others do.
Thanks in advance for your order..